I've decided to post something as close to once a day as I can. Today I have three pictures that are not on my website. The category today is something new, something old and something sold.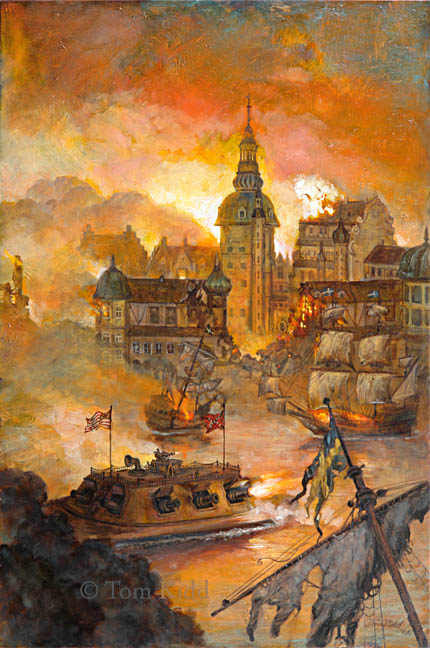 The first I finished just last month. It was done for "1634: The Baltic War" by Eric Flint (16X24) 2006. I tried my best with this painting to be bold. At the very least it is quite thick with paint. The ironclads are the anachronistic element, important in all alternate history.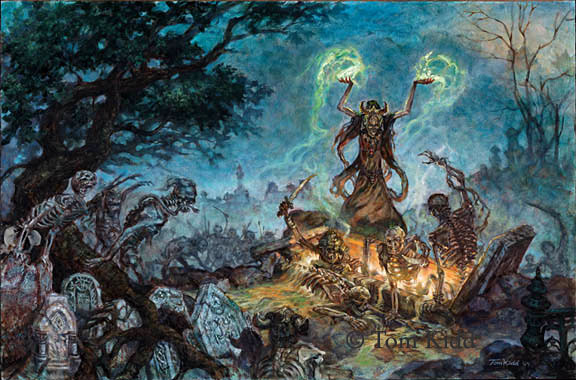 "Libris Mortis: The Book of the Undead" (16X24) 2004 is the only thing I think I've done for Wizards of the Coast. You can see a better copy of it in my book "Kiddography." People seem to be genuinely scared of this painting. To me it's a bit too much of a caricature to be truly upsetting. The necromancer is a bit on the orgasmic side of happy.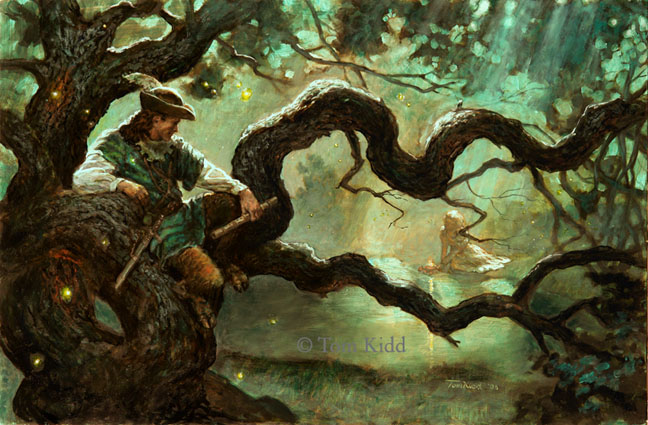 Just today Irene Gallo, art director at Tor Books, asked to put up an illustration on her blog that I did for Realms of Fantasy for "Robin of the Green" (2006) by A. C. Wise. I painted this right after I saw an exhibit at the Dahesh Museum of the Kelley Collection called "Stories to Tell." This exhibit was of work from the Golden Age of Illustration or of artists from around that time: Wyeth, Pyle, Schoonover, Dunn, Leyendecker, etc. As I worked on this painting I tried to channel those illustrators. I felt I fell a little short of my intentions and, I think, undervalued the painting – literally – selling it for a pittance.
Labels: fantasy