Miniature Black Pearls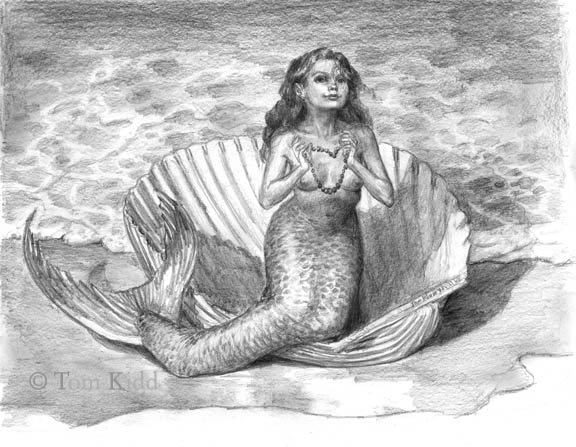 Quite often I hear art directors say how important it is that an illustrator can draw and paint the human figure. Hey, we see humans all the time; why would it be difficult to paint them? The hard part is that, because we're so familiar with what we look like, it's fairly easy to see major mistakes in a figure. Typically I like to adjust or exaggerate the figure in a way to make it more interesting. It's much harder to alter human features and gestures to help a picture than it is to just follow a model. Here I didn't do that. I just made this mermaid up, depicting her in a very pedestrian/matter-of-fact kind of way. Nope, I didn't use a scrap of reference on her, but when it came to drawing the shell and the foam on the beach, I felt I should take a look at those. I haven't studied beaches and shells as much as I have naked women. All for the sake of art of course.
Like many of the idle drawings I've posted here, I found this one in a stack of other unfinished drawings I'd abandoned and decided to give it one more try. It's a very lazy self-absorbed process -- pure free association. Even when I have an assignment, it's usually best to approach it in a similar oblique manner.
PS: I'm adding stuff to my Gnemo Sketchbook blog now but in a different way than I'd originally intended. Link at right.