Medium Matters
The examples below show two approaches: one digital, one traditional. Because they're the same subject matter I think it's interesting to compare the two. I did a number of chapter headings last year using the multiply layers in Photoshop to make a color picture out of a drawing. It's very similar to the way you'd work in watercolors. The layers are transparent so they work like glazes. I started out with a drawing I'd scanned, made a layer and started coloring on it. Then I made more layers, colored them, made more and so on.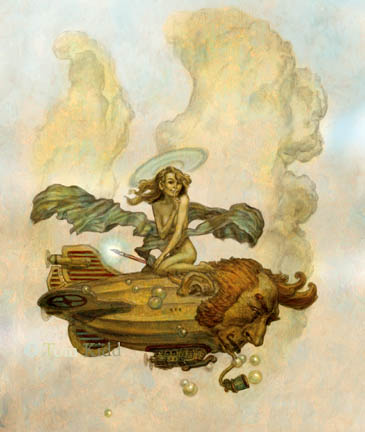 My theory about working with Photoshop is that it reflects your character in a pure way. I can easily recognize the work of an artist whether he's working traditional or digital. Mediums like watercolor, oil, acrylics, and tempera all have a personality of their own. When I work with Photoshop I've notice my work has no character. Thus, I can conclude that deep down in my soul I'm empty. That's why I cheat. Over the years I've scanned the texture stage of my paintings. I'm just not that fond of smooth so I usually start my pictures out with some sort of visual/physical texture. It's these textures I use to add faux character to my digital work. I've saved these textures using define pattern and I use the pattern stamp tool to paint with using a variety of saved textures. Pretty cool, eh?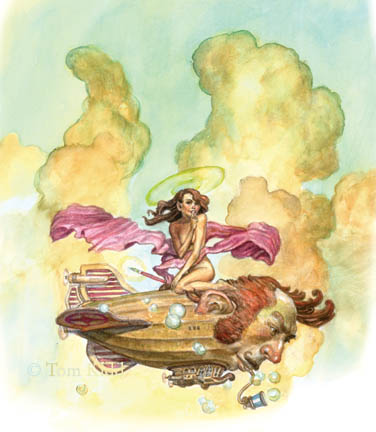 Working like this was fun for a while, then I started pining for real paint. It had been a long time since I worked with watercolor so I asked my watercolor friends for advice. They were very helpful. Artists, for the most part, are quite open with information. It's their time that they are more careful about giving away too freely. An artist's time belongs to his or her studio. Being a timid fellow I decided to do my first watercolor in 25 years of something I'd already done digitally. The great thing about watercolor is that it has its own character. If you let it go its own way it does some neat tricks. Since this first watercolor I've done several more and I have plans for a great deal more. Watercolor has the soul I lack. It must be so because I've been told that eating the right colors, for example the cadmiums, will take you to heaven.
PS: An exhibit of my work is coming up. I'll have the information soon.