Petrogypsies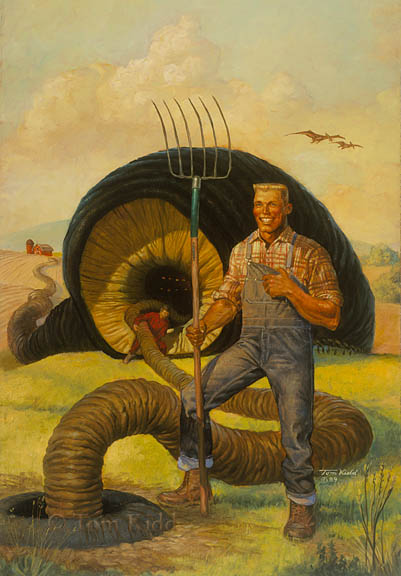 I got tired of seeing my face, especially when I leave a comment on another blog so I'm using this guy's face. All the other artists use art for their picture so who am I to buck the trend?
This book cover is one of the few paintings that I've always thought of as a success but has never been a fan favorite. It's old . . . 1987. Whenever anyone sees it they exclaim, "What the hell is that?!!!" referring to the worm creature. That's just the reaction I wanted.
Sadly, I got a lot of negative comments about it, like the pitchfork having too many tines. If you're going to make a comment about farm equipment I say you should put in the research and learn the difference between a pitchfork and a hey fork. Furthermore, I heard that the author of the book hated the cover. An editor later told me that the author imagined a different cover altogether that, to add to my frustration, matched exactly the one sketch I did that the art director hated. The art director wanted something much more silly and that's what I gave him. Maybe I pushed things too far with the sphincter-like quality to the worm's mouth. Hmm, maybe I should've used that for my picture; people sometimes tell me that I can be an ass.
Oh, and that giant black worm thing, it sucks oil from the ground. It's a living oil drill.