Caprice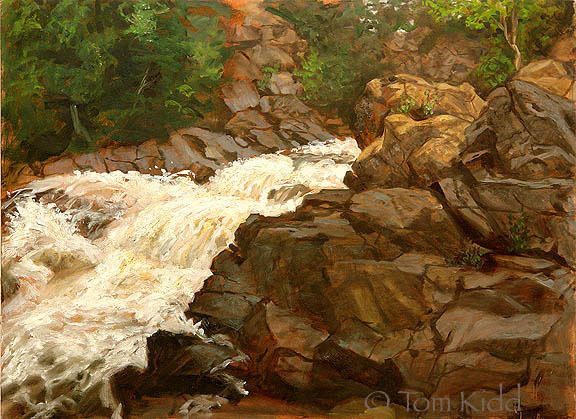 More and more I'm plagued by indecision. What should I put up here? Also, what will I do with the rest of my life? There are just too many options. So, when in doubt, do something. If it weren't for sheer caprice, I get a lot less done.
For no reason at all, here's a real plein air painting I did on location in Algonquin Park in Canada. I know that's redundant but a lot of artists tell me that their 'plein air' paintings are done from photographs or are based on sketches done on location and finished in the studio.
All the paintings I do from life are exercises. That means I'm studying what I'm painting more than I'm trying to do a nice painting. I don't do it on purpose. It's just the way my mind works.
Every day when I'm not painting I'm studying why things look the way they do. I even have a number of theories on this subject that are different than I was taught and contrary to what I've read in books. In my, very arrogant sounding, opinion there's a lot of bad observation going on and it's repeated in text books but it's still wrong. Knowing what I know may not make my paintings any better but I'd rather base my opinions on what I see rather than what's written. Even if I'm wrong.
PS: I recently noticed that the author of "Petrogypies" (see post of same title) wrote a comment. Pretty funny. I wrote to him at his community blog called "eat our brains" and I'm looking for the sketch he was interested in seeing.